The pink neon lights of the Rio Theatre beckon movie goers who want to enjoy current films in a vintage splendor that recalls the 1940s Palm Beach look. The theater, in downtown Overland Park, Kansas, was restored and re-opened to show movies in 2000. It's a real movie palace!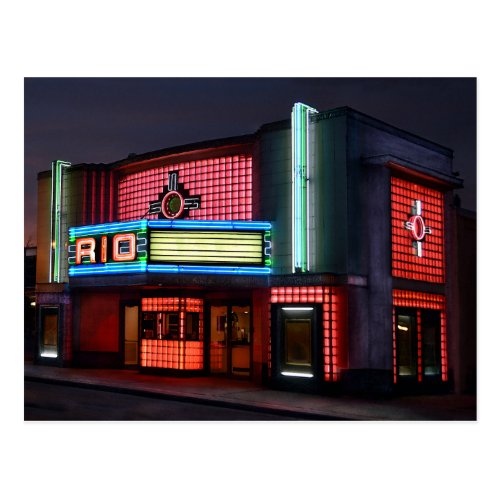 Art Deco Rio Theatre, Overland Park, Kansas Postcard
by
catherinesherman
Make your own
custom photo postcards
on zazzle.
Isis Theater was built in 1899 in Victor, Colorado, and featured live entertainment. Today it no longer features shows, but has been turned into a free museum with antiques, and nostalgic movie collectibles.
Isis Theatre Sign, Victor, Colorado Postcard
by
catherinesherman
Design unique
photo postcard
at zazzle.com
Built in 1935, this Art Deco theater is still in operation. It has a single screen and seats almost 700 people.
Odeon Theater, Tucumcari, New Mexico Postcard
by
catherinesherman
color postcard printing
by zazzle.com
The late afternoon sun casts bold shadows on the rooftop of the iconic Kauffman Center for the Performing Arts in downtown, Kansas City, Missouri, at 16th and Broadway. The center is near the Power and Light Center, the Sprint Center and the Crossroads Arts District.
Kauffman Center Blue Curves, Kansas City Poster
by
catherinesherman
Check out more Kauffman Posters at
Zazzle