It's a Beautiful World!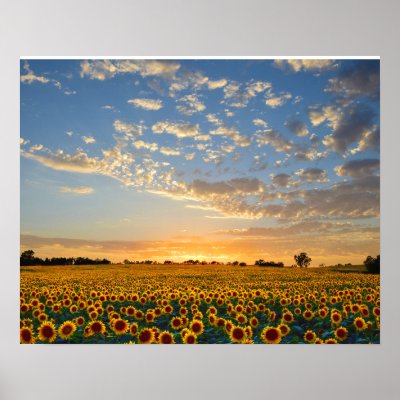 Sunflowers at Sunset Posters
by
catherinesherman
 on Zazzle.
Thousands of sunflowers glow at sunset in a Kansas field.
The sunflower (Helianthus annuus) is an annual plant native to the Americas, but it now grown around the world.  The sunflower is the state flower of Kansas.
It's easy to see how the sunflower got its name with its petals that look like the rays of the sun.  It also grows toward the sun.
Sunflowers were domesticated around 1000 B.C. Francisco Pizarro found the Incan people venerating the sunflower as an image of their sun god. Gold images of the flower, as well as seeds, were taken back to Europe early in the 16th century. The plant has a rough, hairy stem and large coarsely toothed, rough leaves, and circular flower heads. The heads consist of many individual flowers which mature into seeds, often in the hundreds, on a receptacle base. All…
View original post 119 more words